Enterprise Power. Consumer Simplicity.

Store your data locally and access it from anywhere with this smart personal cloud device. With third-party apps you can do even more.


Bring the Cloud Back Down to Earth
AmberPRO gives you the power of the cloud without the headaches. It allows you to securely backup, access, and share your data without a subscription.
It is unlike anything else with built-in WiFi routing and third-party app support available via Docker.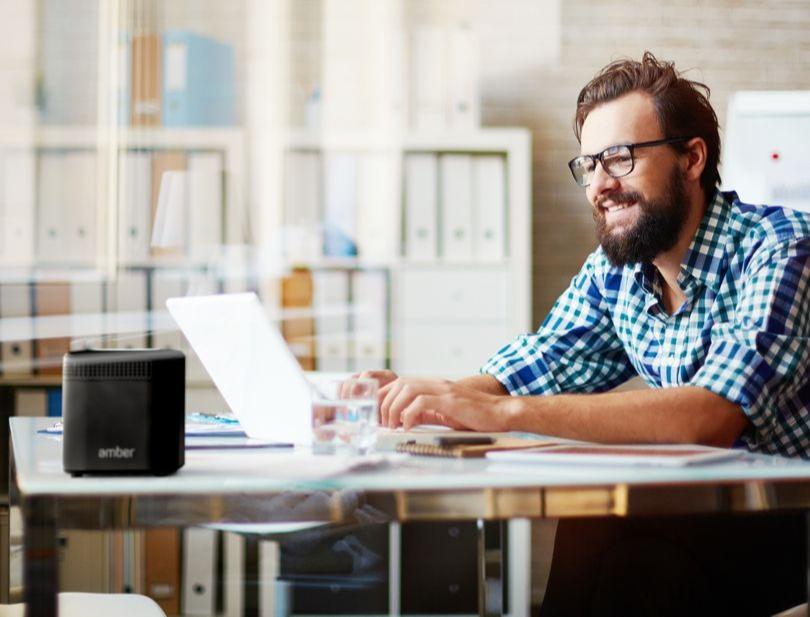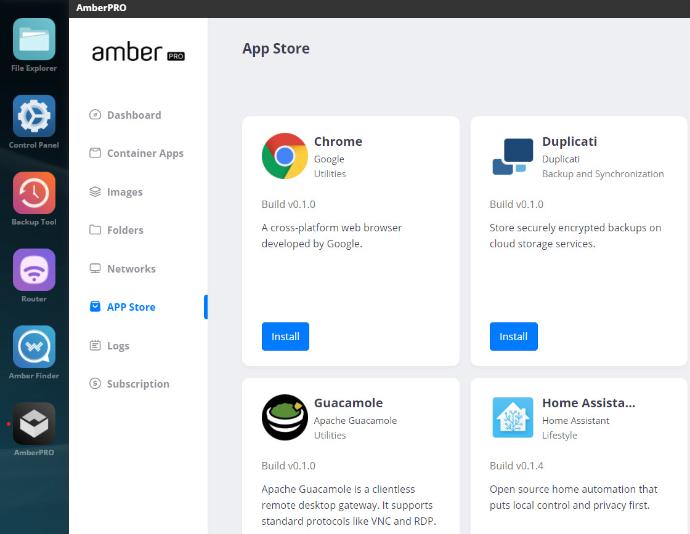 Amber App Store
Mit dem App Store von AmberPRO können Amber-Benutzer Docker-Apps ganz einfach mit nur einem Klick installieren.
Ein-Klick-Installation vieler Docker-Apps.

Jeder kann die Docker-App installieren, auch Nicht-Techniker.

Partner können ihre eigene App auf AmberPRO erstellen.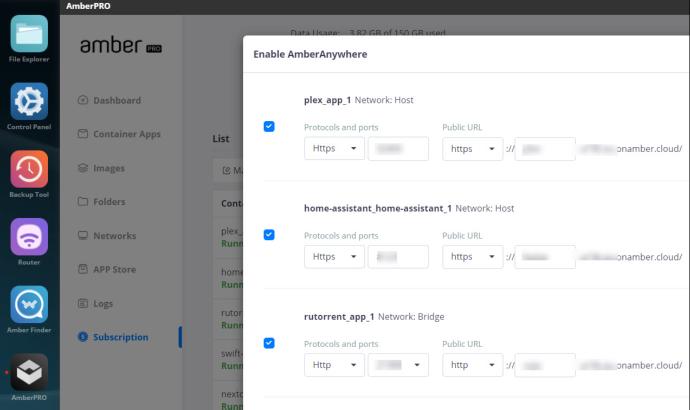 Amber Anywhere
Mit einer öffentlichen URL, die von Amber Anywhere bereitgestellt wird, können Sie von überall aus auf die Docker-App auf Ihrem Amber zugreifen.
Problemlos - Keine lokale Netzwerkkonfiguration erforderlich.

Beseitigen Sie DMZ, DNS und Portweiterleitung.

Verbinden Sie AmberPRO als Smart Home Server mit einem sicheren Tunnel.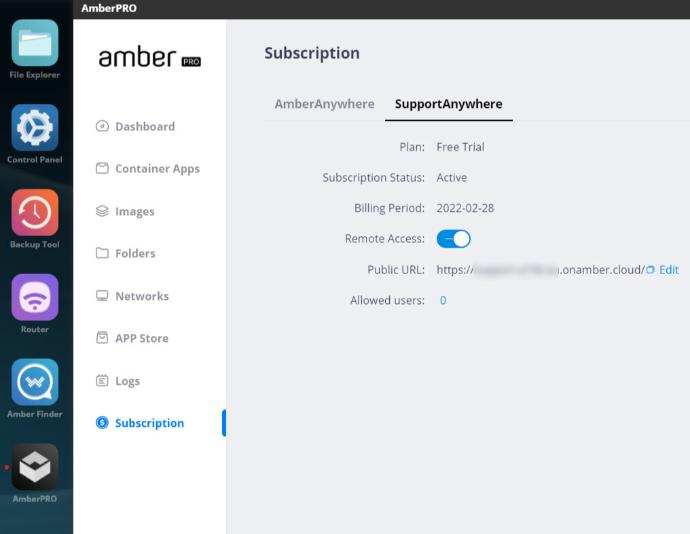 Support Anywhere
Fernunterstützung leicht gemacht. AmberPRO macht es unseren Partnern leicht, von überall aus technischen Support zu leisten.
Datenschutz geht vor: Kein Zugriff auf Datenordner von Amber-Nutzern.


Berechtigungsbasierter Fernzugriff mit Nachverfolgung.

Sicheres Anmeldeportal mit Authentifizierung.

Zugangskontrollpanel mit Protokollverlauf.

Ansichtseinstellung für nahtlose Unterstützung.
More than Storage
​With our App Store and the ability to load any app using Docker, the possibilities are endless. Here are just a few of those possibilities:

✔️True Hybrid Cloud
Amber devices are attached to MyAmber Cloud witout exposing to public internet.
✔️Secure & Private
Remote access to Amber is done by Amber iX app with secure private connection.

✔️Unlimited Expansion
With third-party apps you can do even more with AmberPRO.
MyAmber Cloud
Without exposing your Amber devices directly to the public Internet,
MyAmber Cloud helps you acccess your Amber devices from anywhere and share content with anyone.
✔Amber + MyAmber Cloud
Hassel-free Cloud-attached smart storage
✔ Hassel-free hybrid cloud
Amber devices are protected by MyAmber Cloud from ransomware attacks via the public internet.
✔
Secure & Private connection
Easy-to-use Amber iX apps provide a secure and private connection to your Amber without network settings.
✔
Smart AI without public clouds
Grouping and sorting photos with Smart AI provided by your Amber, not by the public clouds.
✔
AmberPRO with Amber Anywhere
AmberPRO can install containerized apps with hassle-free cloud-like services by Amber Anywhere.

✘Legacy NAS with remote access
Network-attached storage connected to public internet
✗Local storage connected to internet
Internet ransomware attacks are on the rise, NAS users need to configure the firewall on the gateway properly.

✗Public web access to legacy NAS
Web portal to access legacy NAS is convenient, but it increases the vulnerability of internet attacks as well.
✗Cloud relay for connection only
Legacy NAS is using a cloud relay service for remote access without cloud space. No remote backup.
✗Add-on Packages add-on risks
Third-party packages are not easy to be managed by non-tech users to prevent attacks from the internet.


Amber One - AmberPRO 2TB
€549

.00
(inkl. NL-Mehrwertsteuer 21%)
Home Cloud Server

2 TB HDD (1TB *2)
Amber OS + AmberPRO
Intel Dual-Core CPU
Built-in Router with Dual Band WiFi


Amber Plus - AmberPRO 4TB
€649

.00
(inkl. NL-Mehrwertsteuer 21%)
Home Cloud Server

4 TB HDD (2TB*2)
Amber OS + AmberPRO

Intel Dual-Core CPU
Built-in Router with Dual Band WiFi