Photo credit: netthings.pt/@João Martins
"AmberPRO helps users of third-party cloud services by providing a private and secure cloud without recurring costs."
Unboxing
The AmberPro 2TB comes in a simple box that displays the package contents and features. It is a rectangular device with a blue light on top, which indicates the operational status of the device. The device has various inputs on the back, including power, network connection, an HDMI port, two LAN ports, and two USB ports. There is a small cover on the back that can be removed to replace the disks in case of damage or to increase capacity.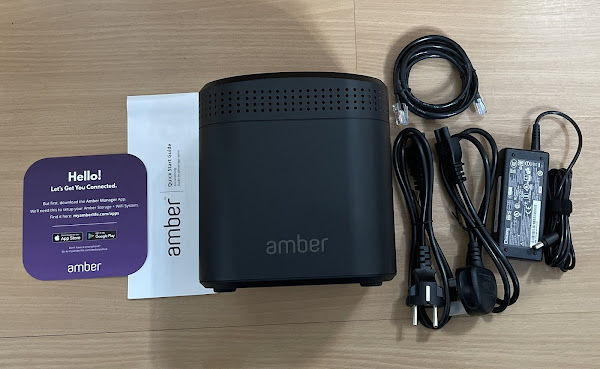 Photo Source:  netthings.pt/@João Martins
Specifications
The AmberPro device comes with an Intel Dual Core Gemini Lake CPU, dual 2.5" 1TB hard drives (but only 1TB can be stored due to the RAID 1 system), built-in AC2600 Wi-Fi router, HDMI input, 1 Gigabit Ethernet WAN port, 2 Gigabit Ethernet LAN ports, and 2 USB 3.0 ports (1 Type-A, 1 Type-C). There are three apps available for managing and using the system, including one for Android and iOS mobile devices and another for desktop and laptop use. Additionally, the device serves as a secondary router.
Features
The AmberPro device is an excellent product for remote file and photo storage with easy access. There are no monthly subscription costs associated with using AmberPro. An automatic backup of photos from mobile phones, the ability to grant cloud access to specific individuals, backup of specific folders on computers, and the organization of photos into folders using artificial intelligence are features that come with the device. AmberPro also uses artificial intelligence to delete duplicate photos. The device allows the creation of a media center for applications such as Kodi and Plex. Additionally, the AmberPro device uses the Raid 1 security system, which ensures that files are stored on both disks, making them safe from malfunctions.
Buy your own Amber product
Security
AmberPRO's security features include the use of TLSv1.2 encryption for data transfer using Openssl-1.02p. Additionally, the device allows for the encryption of the disk using the AES-XTS cipher, which makes the storage of files more secure and less vulnerable to attacks compared to monthly paid cloud services.
Configuration
The configuration process involves connecting the device to the power and network, recognizing the QR code, accepting legal terms, downloading a system update, renaming the device, and adding users with access to the cloud. The configuration is done using the Amber Manager application available for Android and IOS, which makes it accessible and intuitive. The process is completed by giving access to the cloud.
Verdict
Amber Pro is a cloud storage solution that offers an alternative to subscription-based cloud services. The service offers easy access to files and photos, automatic backup of mobile photos, the ability to organize files based on artificial intelligence, and the option to create a media center for applications such as Kodi and Plex. The system uses a secure encryption method for data transfer and offers a RAID 1 security system for protection against malfunction. The setup process is intuitive and easy to follow using the Amber Manager app for Android and IOS. Overall, Amber Pro is a reliable and cost-effective solution for remote storage needs.
"It is a cost-effective option for those who require a lot of storage space and want to avoid slowing down their devices."

Where To Buy
The Lattice Work website offers a variety of cloud solutions including Amber Pro, and customers can use a discount code 0n240D19 to get a 15% discount on their purchase. Shipping is fast and typically takes about a week from the Netherlands warehouse.
Read more about the review here.